SYLWETKA TYPU V, CZYLI TRÓJKĄT
To w zasadzie sylwetka ideał – atletyczna, smukła i bardzo zgrabna. Charakteryzuje ją szeroki  tors, szczupłe biodra, zgrabne ręce i nogi. Przy takim typie budowy można nosić praktycznie wszystko. Zaletą pana trójkąta jest możliwość eksperymentowania z modą. Dozwolone są wszelkie kolory i wzory. Jedyne czego należy unikać, to nazbyt dużej deformacji sylwetki – jak noszenie rzeczy zbyt luźnych oraz podkreślanie górnych, umięśnionych partii ciała zbyt obcisłą koszulką lub golfem.
Niech w całym modowym szale woda sodowa nie uderzy ci do głowy. Musisz starać się utrzymać swoją sylwetkę w dobrej kondycji i nie dodawać sobie zbędnej objętości poprzez źle dobraną kreację. Możesz pozwolić sobie na wiele krojów i fasonów, lecz pamiętaj, żeby przede wszystkim podkreślać swoje atuty, a nie zasłaniać się pod warstwą ubrań. Sięgaj po
modele dopasowane
, jednak nigdy nie za małe lub zbyt opięte. Unikaj tych workowatych lub oversizowych. Wybierając spodnie, podkreślaj szczupłe nogi, sięgaj po warianty:
slim, fit czy klasyczne rurki
. Dobieraj kolory wedle własnego gustu i uznania.
Eksperymentuj z dodatkami
, nie bój się 
wzorów i aktualnych trendów w modzie
.
Przykładem tego typu sylwetki jest piłkarz David Beckham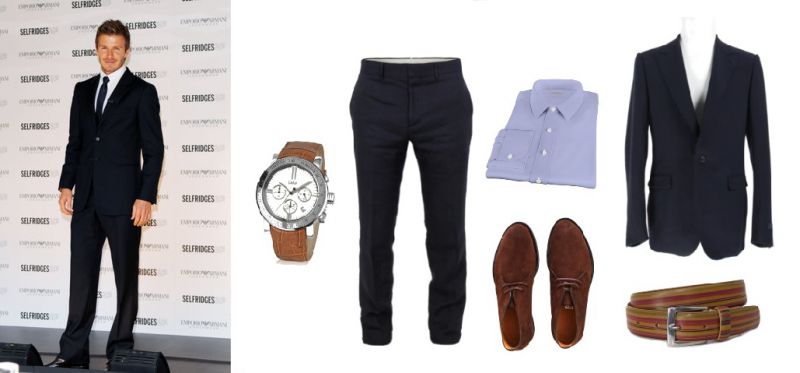 Co nosić? 
dopasowane ubrania,
rurki lub slimy,
 kolorowe i wzorzyste stylizacje,
 eksperymentuj z dodatkami.
Czego unikać?
zbyt opiętych ubrań,
 workowatych i lejących tkanin,
 modeli oversize.
SYLWETKA TYPU O, ZWANA RÓWNIEŻ JABŁKIEM
Panów o takim typie budowy, charakteryzuje wystający brzuch, dość masywne ręce, a także nogi. Mężczyźni z taką figurą, niestety nie mają zbyt łatwo, bo zwyczajnie mają nadwagę. Panowie o tym typie sylwetki powinny skupić się na luźniejszych formach, ale nie nazbyt obszernych. Dobrze im zrobią proste, klasyczne fasony, pozbawione ozdobników i zbędnych przeszyć.
Mężczyzna o tym typie sylwetki charakteryzuje się okrągłą budową – ma niezbyt długie i raczej korpulentne nogi, ramiona mniej więcej o szerokości bioder i wydatny brzuch. Niekiedy panowie Jabłka nazywani bywają "misiowatymi", ale jeśli dbają o kondycję fizyczną, ich sylwetka może wyglądać zdrowo i ponętnie. Jeśli natomiast mężczyźni z tym typem figury nie dbają o kondycję fizyczną i lubują się w  napojach wysokokalorycznych, często mogą mieć problem z nadwagą i "mięśniem piwnym". Jabłkom zaleca się więc zdrową dietę i ruch. Dla tego typu sylwetki szczególnie polecane są ćwiczenia -"brzuszki".
Co nosić?
bluzki z dekoltem w serek
długie marynarki
ciemne spodnie – wyszczuplą nogi (mogą być lekko i równomiernie rozjaśniane – "cieniowane" na całej długości – wyszczuplą uda)
T- shirty, bluzki i koszule o spokojnych deseniach, bez wyraczastych wzorów.
Czego unikać?
obcisłych i za małych ubrań
ubrań w duże i wyraziste wzory i zdobienia
koszul włożonych w spodnie.
Sławne Jabłko: 
Przykładem tego typu sylwetki jest aktor Jack Black.